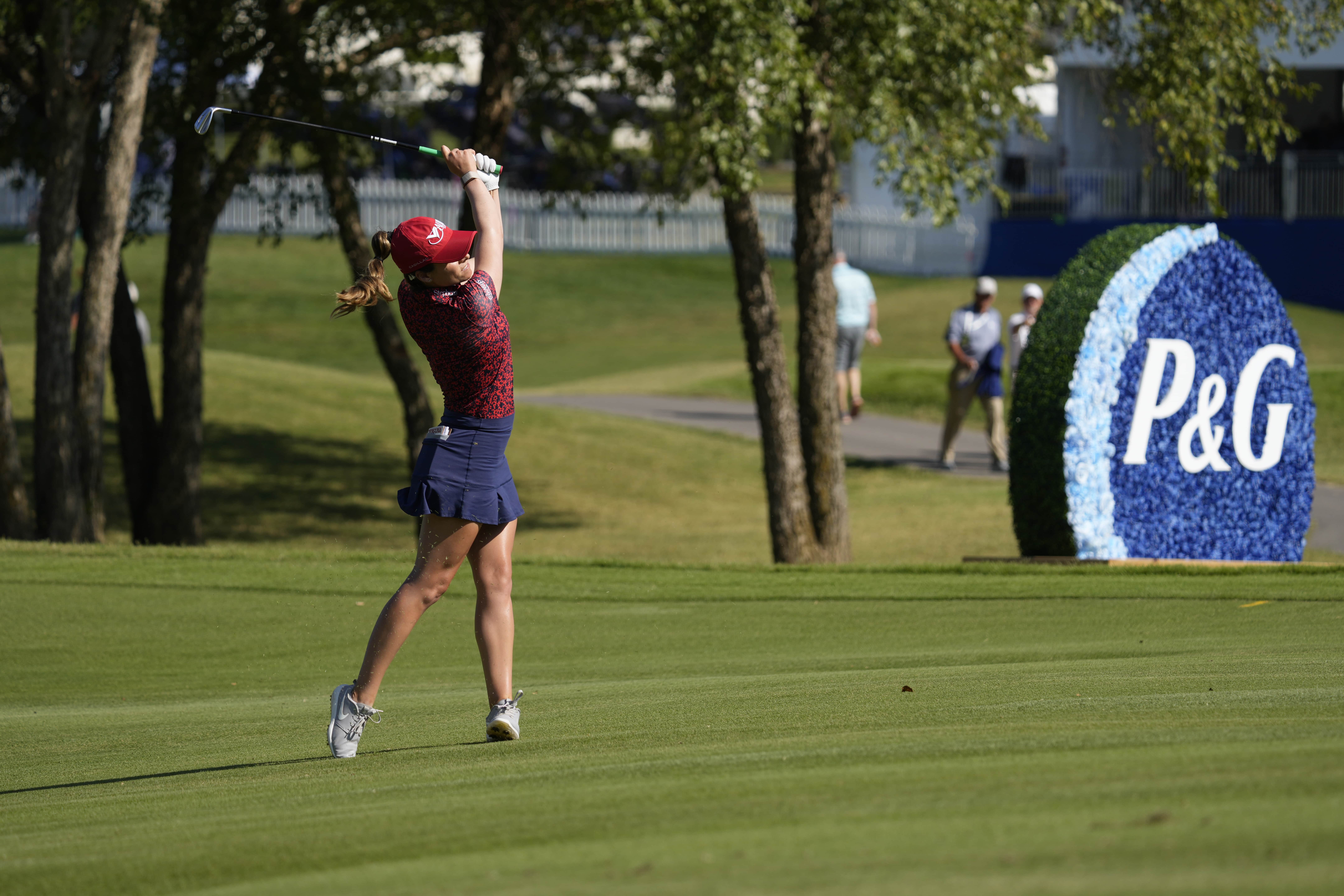 #NWAChampionship Week returns September 23 - October
#NWAChampionship Week returns September 23 - October 1, offering affordable and family-friendly experiences for the entire community
Tournament tickets and volunteer registration will be available on Tuesday, June 6
The BITE Experience @ the LPGA – the #NWAChampionship's signature culinary experience, returns Sept. 29 – Oct. 1
ROGERS, Ark., May 25, 2023 – The Walmart NW Arkansas Championship presented by P&G returns this fall, taking place September 23 – October 1, 2023, at Pinnacle Country Club in Rogers, Arkansas.
One hundred forty-four of the world's best golfers return to the region competing for a $2.3 million purse. The week-long schedule of community events will once again feature a charitable 5k race, onsite food festival, women's leadership summit, guided bike ride, and variety of volunteer opportunities. A comprehensive schedule of events can be found online at NWAChampionship.com.
"The Walmart NW Arkansas Championship presented by P&G continues to be so much more than a golf tournament for our region," said Jennifer R. Jackson, Walmart Senior Vice President, Merchandising. "We are thrilled to continue to provide affordable and accessible experiences for the community to enjoy throughout #NWAChampionship Week and invite all of Northwest Arkansas and beyond to join us for what has become one of the best weeks of the year in our area."
The BITE Experience @ the LPGA will also return to the #NWAChampionship in 2023, as the tournament's onsite food festival. Through this signature culinary experience, spectators will have the opportunity to sample the best local restaurants the region has to offer. The BITE Experience will take place Friday, September 29, through Sunday, October 1, with ticket buyers receiving access to both a golf-viewing deck and expanded courtyard space. New in 2023, each day of the BITE Experience will highlight a variety of diverse-owned restaurants and eateries through strategic partnerships with community organizations such as Black-Owned NWA and NWA Equality.
"We are beyond excited for BITE NW Arkansas to return to the Walmart NW Arkansas Championship presented by P&G," said Brian Williams, Procter & Gamble Vice President, Sam's Club Team. "Through the platform of BITE, we have the opportunity to showcase and celebrate our diverse community while continuing our efforts to help make Northwest Arkansas a better place to live and work."
Additionally, the 5k @ the LPGA benefiting Mercy will return on Saturday, September 23 to the Walmart AMP as part of the week's schedule of family-friendly events. Local companies are invited to participate in the corporate challenge, competing for the titles of Fittest and Fastest Office in NW Arkansas. Additional race information will be announced in the coming months, with registration slated to open in July.
Tournament officials are seeking over 750 volunteers to support the events throughout #NWAChampionship Week. Volunteers have the opportunity to serve in a variety of roles on over 20 different committees including marshals, scorers, and standard bearers. Descriptions of volunteer positions and additional details can be found at www.NWAChampionship.com/Volunteers.
Ticket sales for the #NWAChampionship as well as volunteer registration, will open on Tuesday, June
6. General admission tickets will be available for $10 for daily access or $25 for weekly access to the tournament grounds, with children 17 and under receiving free admission to the event, courtesy of Nestlé. Upgraded ticket options, including the BITE Experience @ the LPGA and the Choctaw Club will also be available for purchase. Visit www.NWAChampionship.com and www.BITENWA.com to stay up to date with event news and information.
About the Walmart NW Arkansas Championship presented by P&G
A premier stop on the LPGA Tour, the Walmart NW Arkansas Championship presented by P&G returns September 23 – October 1, 2023. 144 of the world's best female golfers are set to compete at Pinnacle Country Club in Rogers, vying for a $2,300,000 purse. The week-long schedule of events also includes a 5k race, onsite food festival, women's summit, and other community-driven events. Learn more about the tournament online at www.NWAChampionship.com.
About Walmart
Walmart Inc. (NYSE: WMT) helps people around the world save money and live better - anytime and anywhere - in retail stores, online, and through their mobile devices. Each week, approximately 240 million customers and members visit more than 10,500 stores and numerous eCommerce websites in 20 countries. With fiscal year 2023 revenue of $611 billion, Walmart employs approximately 2.1 million associates worldwide. Walmart continues to be a leader in sustainability, corporate philanthropy and employment opportunity. Additional information about Walmart can be found by visiting https://corporate.walmart.com, on Facebook at https://facebook.com/walmart, on Twitter at https://twitter.com/walmart, and on LinkedIn at https://www.linkedin.com/company/walmart/.
About Procter & Gamble
P&G serves consumers around the world with one of the strongest portfolios of trusted, quality, leadership brands, including Always®, Ambi Pur®, Ariel®, Bounty®, Charmin®, Crest®, Dawn®, Downy®, Fairy®, Febreze®, Gain®, Gillette®, Head & Shoulders®, Lenor®, Olay®, Oral-B®, Pampers®, Pantene®, SK-II®, Tide®, Vicks®, and Whisper®. The P&G community includes operations in approximately 70 countries worldwide. Please visit https://www.pg.com for the latest news and information about P&G and its brands. For other P&G news, visit us at https://www.pg.com/news.
-30-
Media Contact:
Lakyn Moren
Walmart NW Arkansas Championship presented by P&G / BITE NW Arkansas Outlyr
870-321-0225
Back to News